The TransferRoom GBE Calculator

For a limited time only, we are making the GBE Calculator available for free.

This tool provides real-time information about the status of individual players in relation to the UK's new points-based immigration system. The GBE Calculator is not only for British clubs looking to make signings, but also foreign clubs assessing the market for their players. Clubs, agents and players can use the tool to get an indication of whether a deal is worth pursuing.
Get started now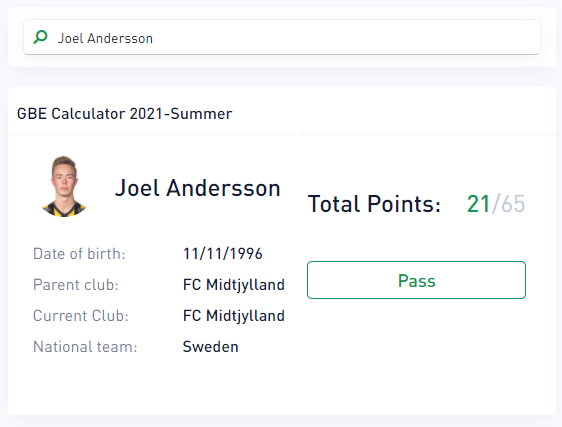 Instant insights
The GBE Calculator provides instant insights into a players eligibility to work in the UK. The database contains detailed records on over 90,000 players worldwide, and categorises them under the following outcomes:
Auto Pass -

Based on international appearances

Pass -

15+ points

Exceptions Panel -

10-14 points

Fail - Less than 10 points


See the full picture
The GBE Calculator also enables you to drill-down into the detail, providing a step-by-step breakdown into the Football Association's latest Points Based System.
This includes detailed information on each of the 5 categories in which a player can gain points, including their international, domestic and continental appearances, as well as attributes relating to their last and current clubs.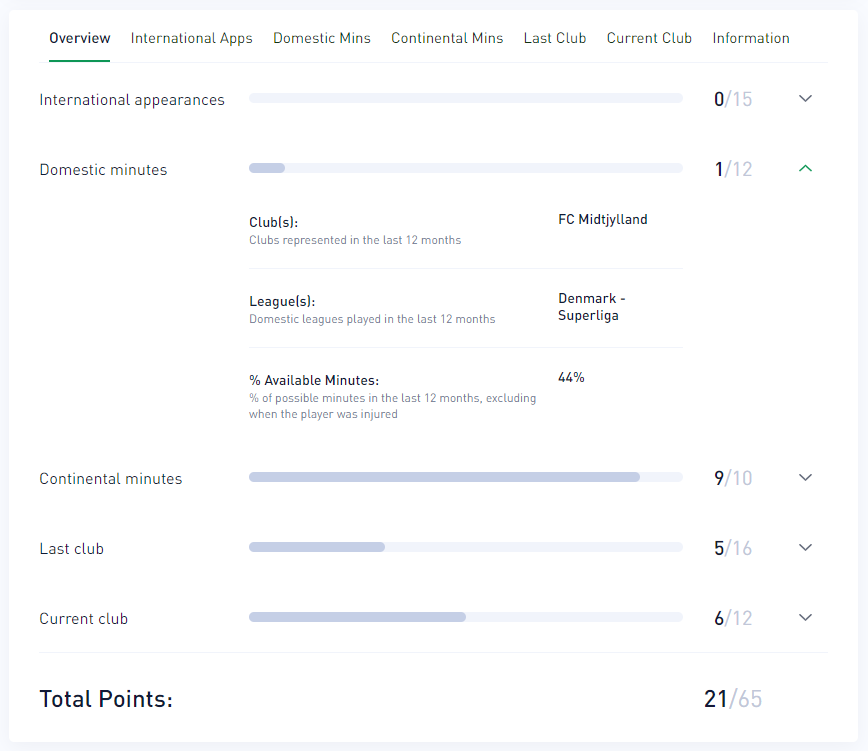 Frequently asked questions
How is this report prepared?

This report is generated automatically based on player and match data in TransferRoom's databases, as well as the current date and the next (or current) UK transfer window. Points are calculated based on the latest rules published on the FA website.

What are the data sources?

Match and appearance data is provided by Wyscout.

How do I obtain a visa for a player?

Centrefield LLP is recognised as the market leader for advising clients in the football industry on immigration queries. Centrefield LLP regularly act on behalf of many clubs in relation to the engagement of non-UK players and have a network of contacts that can assist in getting the best outcomes for clubs in time sensitive situations.

In particular, Centrefield LLP can assist clubs in relation to:

The application process for Governing Body Endorsements from The FA and the SFA;

Applications for and the management of Home Office Sponsor Licences;

Issuing Certificates of Sponsorship;

Applications to the EU Settlement Scheme;

UK work visa and leave to remain applications and appeals;

Ancestry visas and British citizenship rights and applications; and

Right to work checks and Club's Sponsor Licence compliance obligations

If you require more information or need any assistance in relation to any of the above services, please contact:

Stuart Baird - Partner Email: StuartBaird@centrefield.law Telephone: +44 (0)161 672 5450

Sarah Athi - Senior Associate Email: SarahAthi@centrefield.law Telephone: +44 (0)161 672 5450